Discover Peak Performance at
Block Sports Chiropractic & Physical Therapy
Sports Injury Treatment in Hauppauge Welcomes You
Optimize your health and recovery at our two convenient locations!
Smithtown chiropractors Dr. Jeffrey Block, Dr. Richard Block and their professional team including Doctors of Physical Therapy are here to help you actively regain your health. At Block Sports Chiropractic & Physical Therapy you will discover that health comes from within, and it is the most valuable commodity we have. Contact us for sports injury treatment in Hauppauge.
We help you recover from pain and injury and bring you to the highest levels of wellness through our natural, effective services:
Get Back in the Game
Our team specializes in caring for athletes and serves as the team chiropractors at
Stony Brook University, LIU Post, Queens College and for the New York Cosmos soccer team. Whether you're a young athlete participating in a sport at school or are a professional, we can help you return from injury or achieve your best performance yet.
Experience Better Function and Health
We've treated tens of thousands of patients of all ages in various stages of health. Over our many years of experience, we've gained a deep understanding of the impact the spine and nervous system have not only on the function of the body but the quality and longevity of your life. By addressing these important systems, you'll get back the active life you seek to enjoy. Revitalize your life by scheduling a comprehensive first visit and let us determine how we may be able to help you. Convenient Saturday appointments are available!
Block Sports Chiropractic & Physical Therapy 
Smithtown and Selden Chiropractors
(631) 543-0004 | (631) 696-4371
Contact Us For Sports Injury Treatment in Hauppauge
Error: Contact form not found.
Directions From Hauppauge To Our Smithtown Location!
---
What Is a Sports Injury?
A sports injury is an injury that typically occurs from exercising or playing sports. Anyone of any age can obtain a sports injury, affecting various parts of your body. However, sports injuries are most commonly seen in children and athletes. Engaging in certain activities can also increase your risk of obtaining a sports injury. Some activities include:
Football

Soccer

Rugby

Basketball

Weightlifting
At Block Sports Chiropractic & Physical Therapy, we provide the best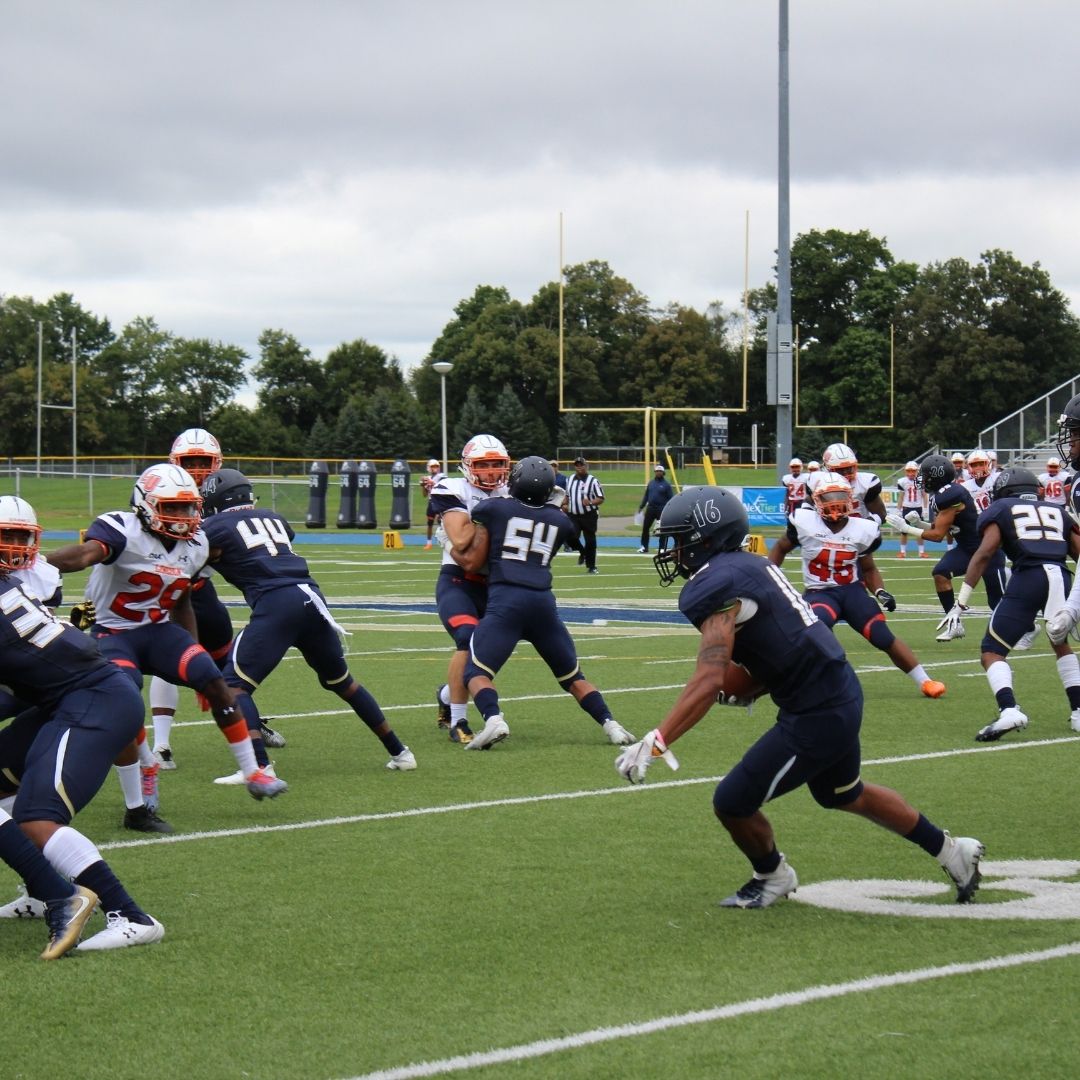 sports injury treatment in Hauppauge! Our team has extensive experience with treating sports injuries and knows how frustrating it can be to suffer from an injury that affects your daily living activities. We will work one-on-one to help increase your mobility, reduce your pain, and prevent any further injuries.
Common Sports Injuries
Tennis elbow:

  This is caused by engaging in activities that require the repetitive use of your elbow. Your tendons may become irritated or tear, resulting in pain outside of your elbow. It is most common in people between the ages of 30 and 60.

Head injury: 

Traumatic brain injuries, such as a concussion, can occur after a sports injury. It is the most common type of head injury and is typically caused by a collision or a blow to the head. It can impact your cognitive functioning and also cause dizziness, nausea, and emotional disturbances. The severity of the symptoms depends on the location of the impact. Symptoms may not appear immediately and can take up to several weeks to emerge. 

Knee injury:

  This type of injury can be caused by jumping and landing improperly, twisting your knee, or running too much without warming up. It can present mild or severe symptoms. An example of a mild symptom would be "runner's knee." With this, you may experience pain under or on the side of your knee.

Sprains:

This occurs when you have stretched or completely torn your ligament. Experiencing a fall is one way to get a sprain. It typically affects your ankles and wrists and may cause swelling, pain, and limited mobility of the affected area.

Strains:

Overstretching can cause you to pull or tear a tendon, resulting in a strain. In addition to pain, you may experience additional symptoms such as muscle spasms and limited strength.

Shin splints:

  Starting a new exercise, such as running, and Improperly using your lower leg during exercise techniques can cause a shin splint. This type of injury affects your tibia, or shinbone, causing pain and swelling along the front and outside of your leg.

Fractures:

 A fracture is a broken bone. It can either be open when the bone breaks your skin or closed when it does not. It occurs when there is a greater amount of pressure applied to your bone than it can withstand. When you have a fracture, you may experience pain or have difficulty supporting your weight with the affected area. Not only can this occur during a sports injury, but also from a fall or a direct hit to your body.  

Dislocations:

  This type of injury occurs when your bone has slipped out of a joint. Symptoms can include tingling, numbness, and pain. It can affect any joint in your body and maybe recurring after the initial dislocation. Your hips, shoulders, and knees are a few areas that are commonly dislocated. Elderly people have a higher risk of experiencing dislocations due to their inability to prevent falls.  
Ways to Prevent Sports Injuries
People who play sports are not the only ones at risk of getting a sports injury. Accidents can occur in a variety of other ways. Learning how to properly prepare for an activity or prevent a sports injury can help minimize your chances of being hurt. It is important that you warm-up and stretch before participating in any activity. Warming up will help to clear your mind and increase your focus. It will also increase your body's temperature and your range of motion, thus allowing you to perform movements in their entirety. When you first begin a new activity, listen to your body and try to start slow. This will allow your body to get used to the activity so that you can gradually increase the duration and intensity. Depending on the type of activity you are participating in, you may be required to wear protective gear, such as a helmet, knee pads, special shoes, glasses, etc. The protective gear should be properly fitted to your body to ensure that it works effectively.
How To Treat a Sports Injury
It is just as important to be knowledgeable about treating sports injuries as it is to know about ways to prevent them. Your treatment method will typically depend on the severity of your injury. At Block Sports Chiropractic & Physical Therapy, we know how important it is for sports injuries to be treated promptly. Delaying treatment can cause the injury to worsen, extend your healing time, and cause long-term damage, which may limit your ability to utilize the affected area. Our physical therapists have worked with numerous patients suffering from various conditions and will utilize the best techniques to treat you at our sports injury treatment in Hauppauge. Here are some of the ways to help treat your sports injury:
R.I.C.E:

  The R.I.C.E method will be beneficial for you immediately after obtaining a sports injury. It requires you to do the following:
Rest to prevent further injury.

Use an ice pack or ice wrapped in a towel, and apply it to the affected area to help constrict blood vessels and reduce the pain and swelling.

Compress the affected area to provide additional support and also help reduce the swelling.

 Ellevate the affected area to help reduce blood flow and minimize swelling.
Treatment Options For Sports Injury
Physical Therapy:

This is an effective

treatment

option to utilize before considering surgery and even post-surgery. After an initial assessment of your condition, a physical therapist will develop a personalized treatment plan to best meet your individual needs. This may include a combination of strengthening exercises, stretches, and various techniques using specialized equipment. They will target the affected areas to prevent permanent damage, gradually increase your range of motion, and help you manage your pain.

Chiropractic Care:

A Chiropractor will utilize a variety of

methods

to increase joint function and reduce pain. Areas such as your neck, back, shoulders, and ankles are commonly treated. Your treatment plan may include manual adjustments to align your bones and reduce tension, soft tissue therapy to minimize muscle tightness.

Massage Therapy:

Manual

massages

will help stimulate blood circulation, relax your muscles, and reduce any discomfort that you may be having. Combining massage therapy with chiropractic care can or physical therapy can enhance your treatment and help you make a full recovery.
If you or someone you may know has suffered from a sports injury and is currently seeking sports injury treatment in Hauppauge,  contact us at Block Sports Chiropractic & Physical Therapy! Let us help reduce your pain and get you back to doing the things that you love. If you have any additional questions about our services, feel free to visit our website!
What Sports Therapy Looks Like
Our experts at our Block sports physical therapy in Hauppauge have seen every ailment under the sun and know just how to take care of each one of our patrons. We pride ourselves on bettering our community's athletes and patrons, no matter how casual or professional of a sports player they may be. We often receive questions about our level of care for those who are injured and what to do to prevent injury for healthy athletes. We enjoy all of the questions our local patients throw our way, but we believe that preventing injury is just as important as managing and rectifying an injury. Though there are a lot of routes on how to prevent sport-specific injuries, such as range of motion control for pitching, there are many ways to prevent basic injuries no matter what you're participating in. 
Injury Prevention
With injury prevention and pain management, we take a special approach to the care athletes may need in terms of physical therapy. Our approach to athletic physical therapy covers a number of bases, so our patrons feel secure with our treatments and their body both after they recover and during play. The best part about our treatment, as mentioned previously, is our ability to focus on the specific needs of athletes in their sports. To those wondering what our sports physical therapy in Hauppauge looks like, it follows the line of differentiating between our patrons' different activities and the advanced physical therapy techniques that may be applicable to all our patients. 
Examples of our specialty in sports therapy range from helping some top local pitchers adjust their shoulder technique for optimal performance or as simple as gait correction of local joggers. There have been some notable ACL tear corrections performed on some of the local high school basketball players and some work helping older locals with instructional exercises to improve their overall wellbeing. The range of sports physical therapy expands with our local athletes' ability to push themselves. 
Chiropractic

 in Sports Therapy
Our Sports Physical Therapy in Hauppauge focuses on the holistic approach to pain management and healing associated with physical therapy with a specialization that helps you get back to the activity that makes you shine. That being said, there are more types of therapy necessary to get you back in the game. That's why along with our physical therapy methods, we go beyond that notion and offer our local patrons the ability to get chiropractic help from our experienced specialists. Our chiropractors' interventions on your body allow for it to heal quicker and more efficiently than with standard rest and recovery. 
With that in mind, or chiropractors can care for a broad base of athletes, young and old, and introduce them to the idea of chiropractic care. Our chiropractors located at our sports physical therapy in Hauppauge help to further diagnose and prompt physical therapy treatment adjustments. Our chiropractors also work hand-in-hand with our physiotherapists to push different treatment forms and recommend certain exercises both at home and while participating in our physical therapy program. 
Sports Physical Therapy in Hauppauge
With our range of abilities in physiotherapy and chiropractic care, we're able to provide our patients with comprehensive and personalized care plans. When you suffer a sports injury, get in contact with Block Sports Chiropractic & Physical Therapy. We have two locations for your convenience; learn all the ways we can help on our website.
What Are Common Sports Injuries And How Can PT Help?
Actively participating in sports is considered one of the best ways to improve cardiovascular health, maintain flexibility, and relieve stress. However, with the frequent movements that sports require, injuries can often occur as a result of insufficient stretching, or contact with other players. In some cases, taking steps on your own to strengthen key muscles and managing the health of the body can make some sports-related injuries preventable. Unfortunately, in many other cases, injury occurs by chance with no way to prepare. Because sports-related injuries are so common, your team could be suffering from an abundance of players who are missing time due to injury. The Sports Injury Treatment in Hauppauge team at Block Sports Chiropractic, and Physical Therapy have been trusted since 1993 to deal with injury prevention and recovery. Specializing in sports-related injury and care, you can trust our staff in providing the most effective treatment options available!
How Can PT Help?
Physical therapy is one of the best ways to help reduce your pain, strengthen the injured muscle or muscles surrounding an injured bone, and ultimately help you return to the playing field. Here are some common sports-related injuries and how physical therapy can likely help:
Shin Splints – Often caused by repetitive stress to the legs such as running or jumping, shin splints refer to the painful inflammation of the tendons and muscles surrounding the tibia. Treatment with physical therapy involves ice and compression therapy, stretching, strengthening the surrounding muscles to prevent future injury, and making any necessary modifications to your current running form.
Sprained Ankle

– These usually occur when the foot twists inward, causing the weak outer ligaments to stretch or tear. Physical therapy for ankle injuries is essential for restoring stability and flexibility, while limited, exercising with an injured ankle is essential in maintaining what strength remains to prevent re-injury after healing.

Pulled Groin – Soreness or inflammation of the groin or inner-thigh muscles caused by side-to-side motion. Gentle exercises are used to recover by increasing blood flow and range of movement in the hip area. Stretches and warm-up exercises are often recommended to prevent future groin injuries.
Contact Us
Sports Injury Treatment in Hauppauge is made possible with the team at Block Sports Chiropractic & Physical Therapy. When left untreated, many conditions caused by sports can either get worse or cause persistent pain in the future. These injuries do not have to keep you on the sideline any longer; recovery with physical therapy is an ideal way to become stronger and prevent future injury.   
If you are looking for Sports Injury Treatment in Hauppauge, Block Sports Chiropractic & Physical Therapy has been serving the local sports communities for over 25 years. You do not have to struggle with your pain and recovery alone, reach out, and schedule an appointment with us today!

Great place to rehab. Staff is super friendly and knowledgeable. Drs are fantastic and explain everything they do. They answer all your questions and make you feel comfortable. PT,s are spot on when treating your issues and are deeply concerned with you injury. Front desk staff are really helpful and friendly while they get you signed in and make your appointments. When you walk in to the treatment area, the staff already knows what you need and are prepared to assist in anyway they can. I highly recommend this office. – Robert. L

Excellent Excellent Excellent experience. I can't thank all the professionals there. They truly care about you and your recovery. Everyone one is so extremely nice and helpful. I love how they treat you would highly recommend them to all friends and family who may need there services. Thanks so much form the bottom of my heart. I have also met many new friends there. Warm welcoming and so extremely friendly to everyone that walks in there door. It's my home away from home. ❤️ – Suzanne M.

I love this office! After suffering many injuries from overuse and cheerleading I have gone to so many different places to find some relief. The team at Blocks office has taken an approach that actually works and helps me in tremendous ways. I was skeptical about physical therapy because of past experiences at other offices yet after coming here I have a stable shoulder and a lot less pain after Derek worked his magic! I see any of the incredible Chiropractors weekly and they have helped provide me with so much relief. Everyone at this office, the front desk staff, aids and workers are so helpful and attentive and really do whatever they can to find a treatment plan that works best for you. Forever grateful for all that this office has done for me! – Julia T.

So out of nowhere, my back goes out and I felt pain that I never felt in my life. Needed help to get off the floor. Once I got up I called a chiropractor to see if I could get help. I made an appointment for Friday which was 2 days away with the Smithtown office. Later that night my wife had reached out to a Facebook group and someone actually was affiliated with the Block Chiropractic, the place I had the appointment with. My wife was explaining what was going on and the pain I was in and before you know it I was getting a phone call from the Doctor himself telling me to come in the next morning first thing. He said he will come in early and/ or stay late any day if someone is in pain. I couldn't believe it. So I did go to emergency room because I had no movement cause my lower back was locked up. I was at Dr Blocks office first thing next morning and whatever miracle him and his staff do got me back on my feet and feeling about 50-60% better. Dr Blocks office and therapy center is THE MOST comfortable, laid back and well staffed treatment center I ever heard of. Nicest staff, spotless because they are constantly cleaning and wiping things down. Everyone talks to one another while your being treated for whatever you there for. Anyway, I can not recommend Blocks office enough. I've been there before in 2019 for a similar thing but this was much worse. Both times the office got me the help I needed very quickly and the treatment you get there is second to none. Don't think twice, if you need a Chiropractor or any sports or injury rehab, call them. – Mike P.