Sports Care in Smithtown and Selden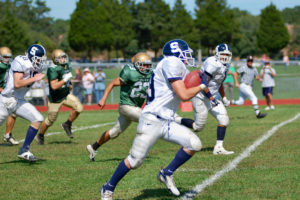 Football great Emmitt Smith once compared playing football every Sunday to getting in 20 car accidents from the impact and injury that would result from hits during the game. The amount of physical stress on athletes, whether in season or the off-season, is tremendous. It's not just professional athletes, either; at younger and younger ages, kids are pushing their bodies beyond what they can handle.
Regardless of the level at which you're performing in your chosen sport, chiropractic care can minimize the negative effects of training and help you achieve peak performance.
Helping Teams Stay Healthy
Our doctors and physical therapists are the team doctors for Stony Brook University, Suffolk County Community College, Queens College, New York Cosmos, St. Joseph University, and the NYPD. We're in the training room helping athletes twice a week at each college and with the soccer team. Our team takes care of entire sports departments, so whether you're active in football, basketball, baseball, field hockey, soccer, lacrosse, track or any other sport, we're here to help you.
Returning You to Full Participation
Some of the problems athletes commonly seek our help with include
Groin injury
Knee problems
Muscle injury
Shin splints
Shoulder pain
Tendon injury
Tennis elbow
We have a variety of skills and techniques to help you return from injury and achieve your peak performance.  Chiropractic care and physical therapy work hand-in-hand for greater healing power. Soft tissue therapy, Active Release Technique, Graston Technique,  several chiropractic techniques, and Kinesio Tape are just a few of the tools we use to get athletes back in the game.
Whether you're held back by a health problem or just want to perform at your best, we're ready to evaluate your needs. Schedule your appointment with us today!
---
Sports Care in Smithtown and Selden | Block Sports Chiropractic & Physical Therapy