Discover Peak Performance at
Block Sports Chiropractic & Physical Therapy
Our No Fault Chiropractor in Farmingville Welcomes You
Optimize your health and recovery at our two convenient locations!
Smithtown chiropractors Dr. Jeffrey Block, Dr. Richard Block and their professional team including Doctors of Physical Therapy are here to help you actively regain your health. At Block Sports Chiropractic & Physical Therapy you will discover that health comes from within, and it is the most valuable commodity we have. Get in contact with our no fault Chiropractor in Farmingville today.
We help you recover from pain and injury and bring you to the highest levels of wellness through our natural, effective services:
Get Back in the Game
Our team specializes in caring for athletes and serves as the team chiropractors at
Stony Brook University, LIU Post, Queens College and for the New York Cosmos soccer team. Whether you're a young athlete participating in a sport at school or are a professional, we can help you return from injury or achieve your best performance yet.
Experience Better Function and Health
We've treated tens of thousands of patients of all ages in various stages of health. Over our many years of experience, we've gained a deep understanding of the impact the spine and nervous system have not only on the function of the body but the quality and longevity of your life. By addressing these important systems, you'll get back the active life you seek to enjoy. Revitalize your life by scheduling a comprehensive first visit and let us determine how we may be able to help you. Convenient Saturday appointments are available!
Block Sports Chiropractic & Physical Therapy 
Smithtown and Selden Chiropractors
(631) 543-0004 | (631) 696-4371
Contact Our No Fault Chiropractor in Farmingville
Error: Contact form not found.
Directions From Farmingdale To Our Selden Location!
Recovering From A No Fault Car Accident In Farmingville NY
Did you recently get into a car accident? When you are involved in a no-fault car accident, it not only causes damage to your vehicle but also to your body. The amount of force applied during a collision can be detrimental. It is important that you seek immediate medical treatment following a car accident to ensure that potential injuries aren't left untreated. Chiropractic care is a great option for treating your car accident injuries. At Block Sports Chiropractic & Physical Therapy, we have a no fault chiropractor in Farmingville who can treat your specific injury and help you on your journey to recovery!
Common No-Fault Car Accident Injuries 
After a car accident, you may sustain various injuries, depending on the severity of the collision. Certain factors can affect the extent of your injuries, such as the part of the vehicle that was hit, whether it was a high-speed or low-speed collision, or whether or not a seat belt was worn. Over 3 million people are injured in car accidents each year. Some of the most common no-fault car accident injuries include:
Whiplash:

This type of injury typically occurs after a rear-end collision. It is a result of the forceful back and forth movement of your neck, which causes your muscles to strain or tear. You may experience headaches, neck pain, and a loss of range of motion in your neck. The onset of these symptoms could be immediate or can develop within a few days after the accident. It is possible to get better after a few weeks of treatment. However, some people could experience chronic pain and other long-term complications.
Head Injuries:

A head injury is any damage to your scalp, brain, or skull. Skull fractures and concussions are examples of head injuries. A concussion is a type of traumatic brain injury and one of the most common types of auto-accident-related injuries. It can be a result of whiplash, where your head and brain shake quickly back and forth. This could result in a loss of consciousness, memory loss, balance problems, or headaches. Symptoms can present immediately following the accident or can take up to several months to appear.
Back Injuries:

Spinal fractures can also be a result of a car accident. A fracture, or broken bone, will typically cause severe pain at the injury site. Additional symptoms are determined by the type of fracture that you sustained but may include nerve damage, numbness, or muscle weakness.
Bruised ribs:

When you experience trauma to your chest from a car accident, you could potentially bruise or fracture your ribs. One of the main symptoms is chest pain, along with swelling, tenderness, and visible bruising.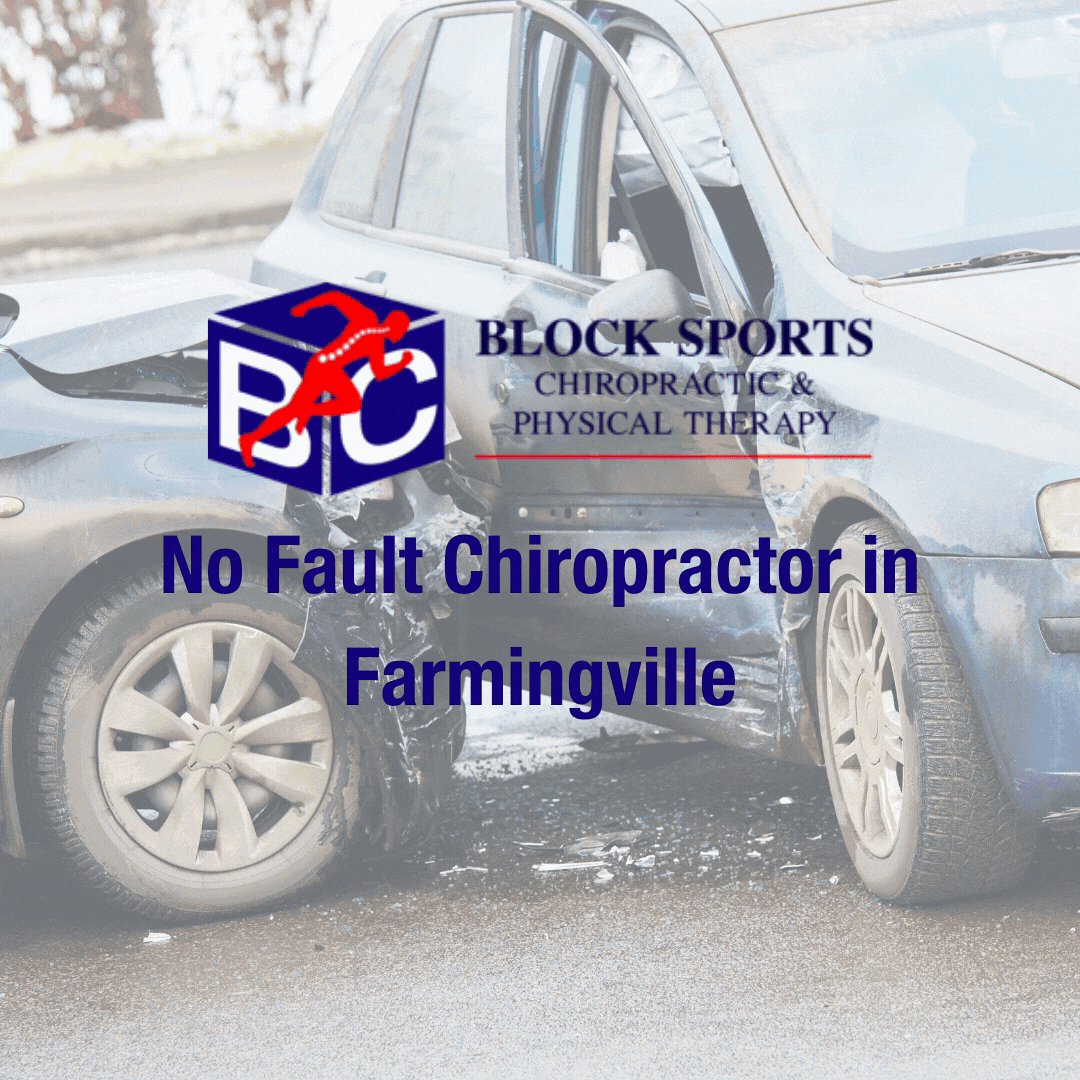 What Is A No Fault Chiropractor in Farmingville
Chiropractors are licensed medical professionals who focus on their patients' neuromusculoskeletal system, including the nerves, muscles, bones, tendons, and ligaments. To do this, they use instruments or their hands to manually adjust your spine and other various parts of your body.  Chiropractic care is typically sought after to treat conditions such as:
Back pain

Neck pain

Leg pain

Headaches
It can be beneficial for you to visit Block Sports Chiropractic & Physical Therapy for treatment after your accident. Our highly experienced no fault chiropractor in Farmingville will conduct an initial assessment of your condition to determine the best treatment plan for you. We offer spinal adjustments, soft tissue therapy, and postural corrections. Additionally, cold laser therapy and electric muscle stimulation may also be included in your treatment to aid in the healing process. Some benefits of our chiropractic care include:
Improved joint function

Improved spinal alignment 

Reduced pain 

Reduced inflammation

Reduced scar tissue

Restored range of motion
No Fault Chiropractor in Farmingville
If you or someone you may know suffers from a no-fault car accident injury and is currently seeking treatment, then contact us at Block Sports Chiropractic & Physical Therapy! If you would like additional information about our no fault chiropractor in Farmingville, check our website.